Coupon Card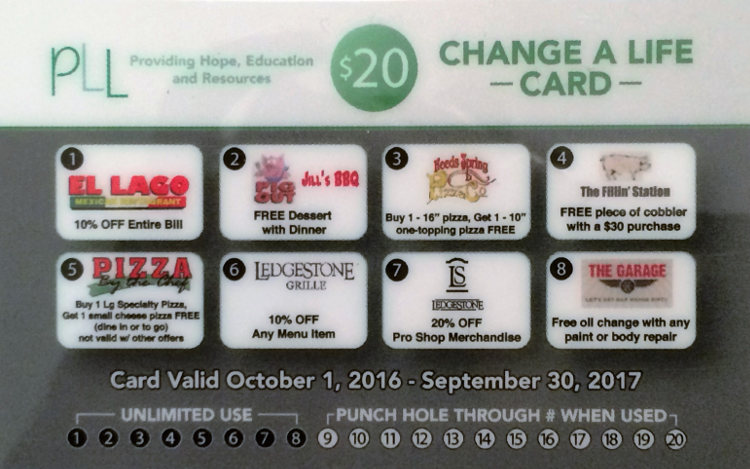 Get discounts worth over $150 at restaurants, hair salons, garages, fitness centers and more!

This valuable card contains 20 coupons and only costs $20. It is valid for ONE YEAR (Oct. 1, 2016—Sept. 30, 2017).
Eight coupons are "unlimited use" – use as many times as you want! The more you use them, the more you save!
Get your Coupon Card today and start saving!  Stop by PLL (19621 State Highway 413 in Branson West) or mail us a check and we will mail you a card.
Cards are also available at the Kimberling Area Library, Leona's Deli, Southwest Fitness, Pizza by the Chef, and El Lago restaurant.

UNLIMITED USE COUPONS
10% off entire bill at El Lago Mexican Restaurant
Free Dessert with purchase of dinner at Jill's BBQ
Buy a 16 in. pizza get a 10 in. 1-topping free at Reeds Spring Pizza
Free piece of cobbler with $30 purchase at The Fillin' Station
Buy 1 LG. Specialty pizza get 1 SM. Cheese pizza free (Not valid w. other offers) at Pizza by the Chef
10% off any menu item at Ledgetsone Grille
20% off Pro Shop Merchandise at Ledgestone Pro Shop
Free oil change with any paint and body repair at The Garage

ONE-TIME ONLY USE
50% off $10 bag of clothes at Caring Americans Thrift Shop
20% off purchase at Caring Americans Thrift Shop
20% off fresh floral arrangement, local deliveries only at The Crystal Rose Florist
20% off any service at Erica's Barber Shop & Salon
Free eyebrow wax with purchase of any chemical service at Blondie's Salon & Spa
10% off entire purchase at Burlap & Lace
Buy 1 food item Get 1 for half off at Leona's Deli
Buy 1 Shaved Ice, get 1 SM Shaved ice free at Mama Gator's Shaved Ice
1 month free membership (new members only) at Southwest Fitness
1 free beverage with any meal purchase (no milk or juice); 1 coupon per guest at Suzie's Mid-Town Cafe
10% off purchase of $50 or more at Table Rock Art Gallery
2 free Zumba classes at Southwest Fitness from Zumba Fitness